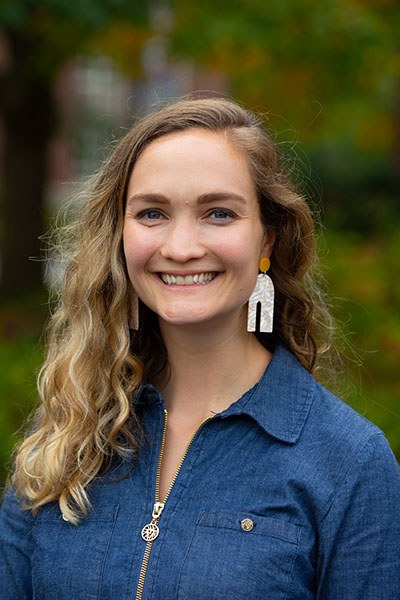 Kristina

P.

Brant

,

Ph.D.
Assistant Professor of Rural Sociology
111A Armsby Building
University Park
,
PA
16802
Areas of Expertise
Child welfare
Criminal justice
Poverty and Inequality
Qualitative methods
Rural Community Development
Substance Use
Education
Ph.D., Harvard University, 2021
MA, Harvard University, 2018
BA, University of Chicago, 2014
I am a sociologist interested in the family and community dimensions of substance use. My research concerns topics such as institutional responses to parental substance use disorder, family dynamics amid kinship care, and community understandings of addiction and recovery. I utilize qualitative methods, including ethnography and in-depth interviewing, to examine these issues in rural U.S. communities, particularly rural Appalachia. In my Extension work, I put this research into practice through community-based programming in rural Pennsylvanian communities. I have also conducted collaborative research on immigration policy and social support networks.
Publications
Gonzales, R. G., B. Roth, and K. Brant. Forthcoming. Un(DACA)mented. Oakland, CA: University of California Press.
Brant, K. Forthcoming. "Non-Parental Primary Caregivers: A Case Study from the United States." In Social Parenthood in Comparative Perspective, edited by Clare Huntington, Courtney Joslin, and Christiane von Bary. New York, NY: New York University Press.
Brant, K. Forthcoming. "When Mamaw Becomes Mom: Social Capital and Kinship Family Formation amid the Rural Opioid Crisis." RSF: Russell Sage Foundation Journal of the Social Sciences.
Gonzales, R. G., K. Brant, and B. Roth. 2020. "DACAmented in the Age of Deportation: Navigating Spaces of Belonging and Vulnerability." Ethnic and Racial Studies 43(1): 60-79. Gonzales, R. G., S. Camacho, K. Brant, and C. Aguilar. 2019. "The Long-Term Impact of DACA: Forging Futures Despite DACA's Uncertainty." Immigration Initiative at Harvard.
Gonzales, R. G., B. Ellis, S. Rendon-Garcia, and K. Brant. 2018. (un)Authorized Transitions: Illegality, DACA, and the Life Course. Research in Human Development 15(3-4): 345-359.
Gonzales, R. G., M. Murillo, C. Lacomba, K. Brant, J. Lee, and D. Vasudevan. 2017. "Taking Giant Leaps Forward: Experiences of a Range of DACA Beneficiaries at the 5-Year Mark." Center for American Progress.
Gonzales, R. G., B. Roth, K. Brant, J. Lee, and C. Valdivia. 2016. "DACA at Year Three: Challenges and Opportunities in Accessing Higher Education and Employment." American Immigration Council.
Gonzales, R. G., M. Luna-Duarte, D. Diaz-Strong, I. Rivas, and K. Brant. 2016. "How Will I Pay for It? Undocumented Students and the Barriers to College Affordability." Latino Policy Forum.