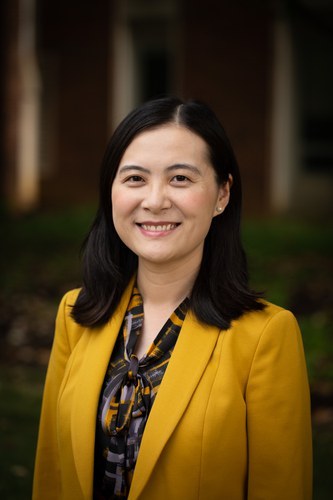 Linlin

Fan

,

Ph.D.
Assistant Professor of Agricultural Economics
Areas of Expertise
Food Economics and Policy
Health Economics
International Trade
Education
Ph.D., Agricultural and Consumer Economics, University of Illinois Urbana-Champaign, 2018
Research Interests
Dr. Fan is an applied economist with interests in food policy, nutrition and international trade. The overall objective of her research is to understand how various food policy, malnutrition interventions and international trade affect people's food choice, health and welfare. The findings of her research provide important insights into current policy debate on food geography, food security and international trade. 
Recent Publications
9. Mullin, G., L. Fan, S. Sulo and J. Partridge. 2019. "The Association between Oral Nutritional Supplements and 30-Day Hospital Readmissions of Malnourished Patients at a US Academic Medical Center" Journal of the Academy of Nutrition and Dietetics, 119(7):1168-1175.
8. Baylis, K., L. Fan and L. Nogueira. 2019. "Agricultural Market Liberalization and Household Food Security in Rural China" American Journal of Agricultural Economics, 101(1): 250-269.
7. Siegel, S., L. Fan, A. Goldman, J. Higgins, S. Goates, J. Partridge. 2018. "Impact of a Nutrition-Focused Quality Improvement Intervention on Hospital Length of Stay" Journal of Nursing Care Quality, doi: 10.1097/NCQ.0000000000000382
6. Fan, L., K. Baylis, C. Gundersen and M. Ver Ploeg. 2018. "Does a Nutritious Diet Cost More in Food Deserts?" Agricultural Economics, 49: 587-597.
5. Wei, J., L. Fan, Y. Zhang, S. Li, J. Partridge, L. Claytor and S. Sulo. 2018 "Association between Malnutrition and Depression among Community-Dwelling Older Chinese Adults" Asia Pacific Journal of Public Health, 30(2): 107-117.
4. Xu, Y. and L. Fan. 2018. "Diverse Friendship Networks and Heterogeneous Peer Effects on Adolescent Misbehaviors" Education Economics, 26(3): 233-252.
3. Zhang, Y., L. Fan, P. Chai, J. Partridge, L. Claytor, S. Li, S. Goates. 2017 "The Impact of Malnutrition on Outpatient and Inpatient Cost among Older Chinese Adults" Chinese Health Economics, 12: 91-94.
2. Wei, J., L. Fan, Y. Zhang, J. Partridge, L. Claytor, S. Li, S. Sulo. 2017. "The Impact of Malnutrition on Health Outcomes and Healthcare Cost among Chinese Older Adults" Chinese Journal of Geriatrics, 38(8): 20-25.
1. Graham, J. L. Fan, E. Meadows, L. Hang, J. Partridge, S. Goates. 2017. "Addressing Malnutrition Across the Continuum of Care: Which Patients Are Likely to Receive Oral Nutritional Supplements?" Journal of Ageing Research and Healthcare, 1(3): 18-27.
Publications
Impact of a nutrition-focused quality improvement intervention on hospital length of stay
Journal of Nursing Care Quality, Siegel, Sharon, Fan, Linlin, Goldman, Amanda, Higgins, Joseph, Goates, Scott, Partridge, Jamie, 2019
Association between malnutrition and depression among community-dwelling older Chinese adults
Asia-Pacific Journal of Public Health, Wei, Junmin, Fan, Linlin, Zhang, Yuhui, Li, Shirley, Partridge, Jamie, Claytor, Ling, Sulo, Suela, 2018
Addressing Malnutrition Across the Continuum of Care: Which Patients Are Likely to Receive Oral Nutritional Supplements?
Journal of Ageing Research and Healthcare, Graham, J, Fan, L, Meadows, E, Hang, L, Partridge, J, Goates, S, 2017
The Impact of Malnutrition on Health Outcomes and Healthcare Cost among Chinese Older Adults
Chinese Journal of Geriatrics, Wei, J, Fan, L, Zhang, Y, Partridge, J, Claytor, L, Li, S, Sulo, S, 2017
Analysis on the Impact of Malnutrition on Outpatient and Inpatient Costs among the Elderly in China
Chinese Health Economics, Zhang, Y, Fan, L, Chai, P, Partridge, J, Claytor, L, Li, S, Goates, S, 2017