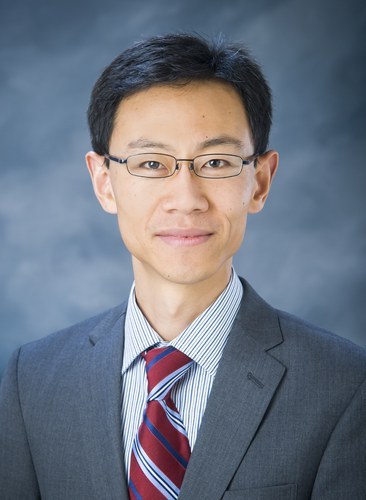 Guangqing

Chi

,

Ph.D.
Professor of Rural Sociology, Demography, and Public Health Sciences
Director, the Computational and Spatial Analysis Core
112E Armsby
Penn State University
University Park
,
PA
16802
Areas of Expertise
Environmental demography
Socio-environmental systems
Population-infrastructure dynamics
Computational and spatial analysis
Education
PhD, Environmental Demography, University of Wisconsin-Madison, 2006
MS, Environmental Policy, Michigan Technological University, 2002
BS, Environmental Science, East China Normal University, 1999
Dr. Guangqing Chi is an environmental demographer with a focus on socio-environmental systems. His research seeks to understand the interactions between human populations and the built and natural environments and to identify important social, environmental, infrastructural, and institutional assets to help vulnerable populations adapt and become resilient to environmental changes. A key characteristic of his research is the attempt to integrate social systems and the built and natural environments in understanding population dynamics by developing and applying innovative spatial and big data methods to traditional and nontraditional data. His current work investigates climate change impacts on coastal communities in the Arctic and climate-driven migration and left-behind children in Central Asia. He is an expert in spatial and big data analytic methods and lead author of the textbook "Spatial Regression Models for the Social Sciences" (SAGE 2019). Dr. Chi leads the POLARIS project and the establishment of an infrastructure for collecting and analyzing social media data (60+ TB; Twitter, Facebook, mobile phone).
Current/Recent Courses
RSOC597: Spatial Analysis of Social Data
CED410: Population and Environment
RSOC597: Elements of Statistics
Book
Chi, Guangqing and Jun Zhu. 2019. Spatial Regression Models for the Social Sciences. Volume 14 of Advanced Quantitative Techniques in the Social Sciences. SAGE Publications: Thousand Oaks, CA. 272 pages. ISBN: 9781544302072; 154430207X.
Selected Key Publications
Park, Hyun Joon, Sara Francisco, Rosemary Pang, Lulu Peng, and Guangqing Chi. 2023. "Exposure to Anti-Black Lives Matter Movement and Obesity of the Black Population." Social Science and Medicine 316: 114265.
Li, Chuo, Jing Zhao, Junjun Yin, and Guangqing Chi. 2023. "Park Access Affects Physical Activity: New Evidence from Geolocated Twitter Data Analysis." Journal of Urban Design 28(3): 316–335.
Hofmann, Erin and Guangqing Chi. 2022. "Bride Kidnapping and Gendered Labor Migration: Evidence from Kyrgyzstan." Journal of Ethnic and Migration Studies 48(11): 2493–2514.
Yin, Junjun and Guangqing Chi. 2021. "Characterizing People's Daily Activity Patterns in the Urban Environment: A Mobility Network Approach with Geographic Context-Aware Twitter Data." The Annals of the American Association of Geographers 111(7): 1967–1987.
Chi, Guangqing and Donghui Wang. 2018. "Population Projection Accuracy: The Impacts of Sociodemographics, Accessibility, Land Use, and Neighbor Characteristics." Population, Space and Place 24(5): e2129.
Chi, Guangqing and Hung Chak Ho. 2018. "Population Stress: A Spatiotemporal Analysis of Population Change and Land Development at the County Level in the Continental United States, 2000–2010." Land Use Policy 70(1): 128–137.
Chi, Guangqing and Jamie Boydstun. 2017. "Are Gasoline Prices a Factor in Residential Relocation Decisions? Preliminary Findings from the American Housing Survey, 1996–2008." Journal of Planning Education and Research 37(3): 334–346.
Chi, Guangqing, Willie Brown, Xiang Zhang, and Yanbing Zheng. 2015. "Safer Roads Owing to Higher Gasoline Prices: How Long It Takes." American Journal of Public Health 105(8): 119–125.
Chi, Guangqing and David W. Marcouiller. 2013. "In-Migration to Remote Rural Regions: The Relative Impacts of Natural Amenities and Land Developability." Landscape and Urban Planning 117(1): 22–31.
Chi, Guangqing and Stephen J. Ventura. 2011. "An Integrated Framework of Population Change: Influential Factors, Spatial Dynamics, and Temporal Variation." Growth and Change 42(4): 549–570.
Chi, Guangqing and David W. Marcouiller. 2011. "Isolating the Effect of Natural Amenities on Population Change at the Local Level." Regional Studies 45(4): 491–505.
Chi, Guangqing. 2010. "The Impacts of Highway Expansion on Population Change: An Integrated Spatial Approach." Rural Sociology 75(1): 58–89.
Chi, Guangqing. 2009. "Can Knowledge Improve Population Forecasts at Subcounty Levels?" Demography 46(2): 405–427.
Chi, Guangqing and Jun Zhu. 2008. "Spatial Regression Models for Demographic Analysis." Population Research and Policy Review 27(1): 17–42.
Active External Grants
NSF Navigating the New Arctic Program. "NNA Track 1: Pursuing Opportunities for Long-term Arctic Resilience for Infrastructure and Society (POLARIS)" (Award # NNA-1927827). 1/1/2020–12/31/2023. PI. $3,018,000.
NSF Navigating the New Arctic Program. "Collaborative Research: NNA Research: Arctic, Climate, and Earthquakes (ACE): Seismic Resilience and Adaptation of Arctic Infrastructure and Social Systems amid Changing Climate" (Award # NNA-2220219). 1/1/2023–12/31/2027. PI. $559,000. (Lead PI: Majid Ghayoomi, U New Hampshire; total budget: $3,009,000.)
NSF Office of Polar Program. "RAPID: Using Mobile Phone Data to Understand the Impacts of the COVID-19 Pandemic on Food Assistance Use in Alaska" (Award # OPP-2207436). 2/1/2022–1/31/2023. PI. $200,000.
NSF Strengthening American Infrastructure Program. "EAGER: SAI: Collaborative Research: Community-Driven Innovation for Resilient Bridges in Remote Communities" (Award # BCS-2121909). PI. Project dates: 10/1/2021–9/30/2023. $259,112.
NSF Office of Polar Program. "Planning: Building Community Resilience in the Food-Energy-Water and Society Nexus." (Award # OPP-2225982). 10/1/2022–9/30/2024. Co-PI with Somayeh Asadi (PI). $200,000.
NSF Sociology Program. "RR: The Generalizability and Replicability of Twitter Data for Population Research" (Award # SES-1823633). 7/15/2018–6/30/2022. PI. $500,000.
NIH. "The Impact of Structural Racism on Racial/Ethnic Disparities in End-Stage Kidney Disease from Healthy Population to Mortality" (Award # 1R01DK132953-01). 8/1/2022–5/31/2026. Co-I with Jonathan Daw (PI). $2,646,872.
NSF Environmental Sustainability Program. "CAS-Climate: An Integrated Framework to Investigate Thermal Resilience of Sustainable Buildings and Living Environments for Greater Preparedness to Extreme Temperature Events" (Award # CBET-2215421). 9/1/2022–8/31/2026. Co-PI with Julian Wang (PI). $500,000.
NIH/NICHD. "Population Research Institute" (Award # 2P2C HD041025). 6/1/2021–5/31/2026. SP (PI of the Computational and Spatial Analysis Core) with Jennifer Glick (PI). $3,530,135.
NSF Office of Polar Program. "Convergence NNA: Coordinate a Transdisciplinary Research Network to Identify Challenges and Solutions of Permafrost Coastal Erosion and Its Socioecological Impact in the Arctic" (Award # OPP-1745369). 1/1/2018–12/31/2022. Co-PI with Ming Xiao (PI). $500,000.