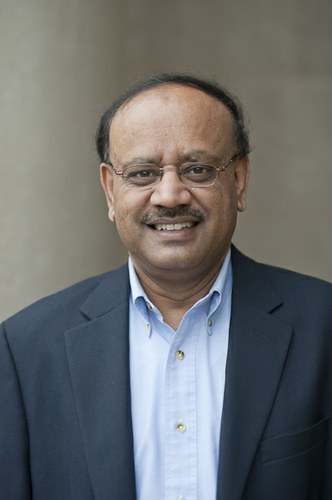 Rama

Radhakrishna

,

Ph.D.
Assistant Dean for Graduate Education
Professor of Agricultural and Extension Education
217 Agricultural Administration Building
University Park
,
PA
16802
Areas of Expertise
Program Development
Program Evaluation
Research Methods
International Agricultural Development
Education
Ph.D., The Pennsylvania State University
M.S., University of Ag Sciences, India
B.S., University of Ag Sciences, India
As assistant dean for graduate education, Rama Radhakrishna is responsible for the day-to-day operation of 16 graduate programs in the College of Agricultural Sciences, including recruitment, admissions, funding, graduate student progress, graduate program reviews, and graduate learning outcome assessment. He also serves as liaison between the college and the Penn State Graduate School. Dr. Radhakrishna joined the college in 2000 as a professor of agricultural and extension education. He teaches undergraduate- and graduate-level courses in program development, program evaluation, and research methods and data analysis.
He also teaches an NSF-GRFP Preparation course for College of Agricultural Sciences students. He has received several teaching, research, and extension awards from the American Association for Agricultural Education (AAAE), NACTA, American Evaluation Association, Association for International and Agricultural Education (AIAEE), and Indian Society of Extension Education (ISEE). He is a senior fellow of AAAE, AIAEE, NACTA, and ISEE. He is a recipient of the Fulbright-Nehru Fellowship and was on a teaching assignment in India. In 2017, the Penn State Graduate School recognized him with the Outstanding Graduate Faculty Teaching Award.
Awards and Honors
2019 Gamma Sigma Delta Research Award of Merit, Penn State Chapter
2019 Distinguished Extension Educator Award from AAAE
2018 Distinguished Extension Educator Award, North Central Region of AAAE 
2017 Outstanding Graduate Faculty Teaching Award, Penn State Graduate School
2015 Senior Fellow, Association for international Agricultural and Extension Education (AIAEE)
2013 Senior Fellow, American Association for Agricultural Education
2012 Community of Teaching Excellence Award, College of Agricultural Sciences, Penn State (three-time recipient), inducted to the Community of College Teaching Excellence
2011 Distinguished Teacher Award from AAAE
2010 Distinguished Researcher A ward from AAAE
2010 Food and Agricultural Sciences Excellence in College and University Teaching Awards Regional Award (Eastern), USDA
2009 The Sustained Excellence in Extension Evaluation Award from the American Evaluation Association
2009 Eastern Region Outstanding Teacher Award from NACTA 
2009 Community of Teaching Excellence Award from Penn State College of Agricultural Sciences
2009 Distinguished Researcher Award from AAAE
2009 NACTA Outstanding Teacher Award 
2008 Distinguished Teacher Award, North Central Region, AAAE
2008 Gamma Sigma Delta Teaching Award of Merit, Penn State Chapter 
2007 Community of Teaching Excellence Academy, Penn State College of Agricultural Sciences
2007 Outstanding Achievement Award from AIAEE
2007 K. N. Singh Memorial Award for Outstanding Extension Research from ISEE
2006 NACTA Teacher Fellow 
2000 Clemson University Board of Trustees Award for Faculty Excellence  
1999 Outstanding Young Professional Award from AIAEE
Courses Taught
AEE 450 Program Design and Delivery 
AEE 496 Introduction to Research Methods
AEE 520 Scientific Methods in Agricultural and Extension Education 
AEE 509 Contemporary Issues in Ag and Extension Education Research 
AEE 530 College Teaching
AEE 596A Organizing and Presenting Scientific Information 
AEE 597D Introduction to Qualitative Research Methods 
AG 150 Freshman Seminar
YFE 550 Program Development and Evaluation in Youth, Families, and Communities 
Selected Publications