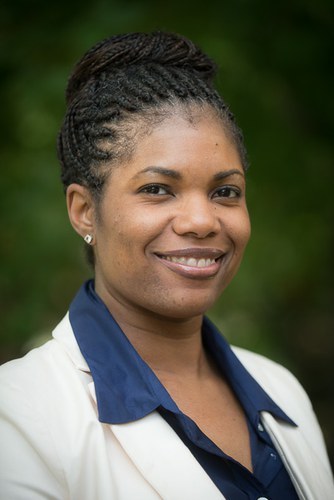 Nicole

Webster

,

Ph.D.
Associate Professor of Youth and International Development and African Studies
Director of the 2iE-Penn State Centre for
Collaborative Engagement in Burkina Faso, West Africa
Comparative and International Education Faculty (CIED), College of Education
204B Ferguson
University Park
,
PA
16802
Areas of Expertise
Civic Engagement
Social Change
International community development
Education
2002, Ph.D., Michigan State University
1992, M.S., Michigan State University
1993, B.S., University of Florida
Research concentration:
Youth civic development and international community development 
Current research activities: 
Examining the role and meaning of black and Latino young adults in Central America West Africa, and the Americas engaged in social movements and civil society
Examining the role of black youth participation and inclusion in youth development programs in the US 
Select Publications
Webster, N., Sausner, E., Alotaibi, B., & Patterson, A.  (2018). The intersection of civic engagement and civic attitudes among Latino youth through a factor analysis.  Journal of Social Change, 10(1), 159–168.
Webster, N. & Smith, M. (2018).  Strategies for 4-H Program Planning and Recruitment Relative to African American Male Youths. Journal of Extension, [Online], 56(4) Article 4TOT4. Available at: https://joe.org/joe/2018august/tt4.php
Webster, N. & Sausner, E. (2017).  A focused analysis of TVET: Unique opportunities and strategies for investing in and engaging youth in Nicaraguan society.  Journal of Vocational Education & Training, 69(4), pp. 451-472.
Sausner, E. & Webster, N. (2017). Moving out or building up: Theoretical links between migration and community resilience in Nicaraguan Afro-Caribbean coastal communities. Journal of Developing Societies, 32(4), pp. 484-507
Coffey, H., Webster, N. & Hefer, T. (2016). Developing Justice-Oriented Teaching Dispositions with First-Year University Students through Service-Learning. International Journal of Research on Service-Learning in Teacher Education, 4, pp. 1-16.
Select Edited Book Chapters
Webster, N., Coffey, H., & Ash, A.  (2016).  #UrbanLivesMatter: Empowering Learners through Transformative Teaching.  In Petty, T., Good, A., & Putnam, S.M. (Eds.), Handbook of  Research on Professional Development for Quality Teaching and Learning (pp. 462-485).  Hershey, PA:IGI Global Publishing. doi:10.4018/978-1-5225-0204-3
Webster, N.  & Ganpat, W. (2015).  Youth: Adding Value to Agriculture in the Caribbean. In W. Ganpat & W. Isaac (Eds.), Sustainable Food production Practices for the Caribbean (pp. 38-56). New York and Jamaica: Randle Publications.
Edited Books
Stewart, T., & Webster, N. S. (Eds.). (2011). Exploring cultural dynamics and tensions within service-learning. Charlotte, NC: Information Age Publishing. (ISBN: 978-1-61735-465-6).
 Stewart, T., & Webster, N. S. (Eds.). (2010). Problematizing service-learning: Critical reflections for development and action. Charlotte, NC: Information Age Publishing. (ISBN: 978-1-61735-210-2).
International Engagement 
Latin America and the Caribbean (2013- present)
Coordinating the International Civic and Citizenship Education Study (ICCS) group with colleagues and graduate students to analyze the International Association for the evaluation of Educational Achievement (IEA) dataset with a focus on Latin America and Caribbean countries
Designing a joint certificate program within UAM College CUSE Program in Managua on sustainability and engagement
Conducting an Afro-Latino research project with youth and related groups in Bluefields, Nicaragua 
Lead a mixed graduate and undergraduate course to Trinidad and Tobago focused on youth engagement in diverse contexts (May 2015)
Designed and led graduate capstone INTAD 820 courses to Nicaragua and Trinidad and Tobago focused on youth, agriculture, and sustainability (March 2015; 2014)
Led in-country USAID scoping mission through InnovATE grant to assess workforce opportunities for Nicaraguan youth (2014) 
Sub-Saharan Africa and MENA region (2014 - present)
Director of the 2iE-PSU Centre for Collaborative Engagement in Burkina Faso to assist in the direction and development of research and collaborative activities between PSU and scholars in the region
Partnering with World Bank in Cameroon on a country-wide initiative on agricultural revitalization  
Lead strategic efforts with Winrock International on improving and enhancing TVET in Senegal
Senior research collaborator on PSU-Hershey College of Medicine research project with MountCrest University in Ghana
Leading efforts on YALI fellows with US Embassy in Ouagadougou and PSU student engagement within the West African region  
Co-lead a student study abroad course to Morocco focusing on youth entrepreneurship and engagement in society (May 2017)
Co-constructed the development of NSF proposals focused on the Food, Water, Nexus in West Africa (2017-2018)
Participated in College of Agricultural Sciences scoping missions to Morocco to explore the potential for national partnerships with OCP (2014)
Europe (2015- present)
Engaging in the expansion of the Freiburg Center and related engagement activities (research, study abroad, faculty exchanges) in Germany (internal partnership with 2iE) 
Advise graduate student research in partnership with the University of Frieburg faculty for the Centre of Medicine and Society 
Fostered relationships with Sorbonne University (France) to foster greater study abroad programs, faculty exchanges, and collaborative research efforts between students and faculty
Select Professional Presentations and Technical Reports 
Technical publications
Webster, N. (2016). El activismo y el compromiso entre los adultos jóvenes Nicaragua. Revista Senderos Universitarios. UNICA. Nicaragua.
Webster, N. (2015). Girls, Globalization and Science: Creating a culture of New Scientists on a Global Scale. June 2015, p. 13. Magazine des Journey Enterprises 2iE available at http://www.2ie-edu.org/assets/MAGAZINEJE-2015-TALENTS-ET-      ENTREPRISES.pdf
Webster, N. (2015). Agriculture and Youth Development State of Global Youth? Agricultural Education and Training Good Practices. Innovate Project available at http://www.oired.vt.edu/innovate/wpcontent/uploads/2015/08/Youth_goodpraice_5715.pdf
Related Teaching Efforts
Instructor— AYFCE 535 Youth Civic Engagement 
Instructor—AEE 820 International Agriculture and Development 
Instructor — CED 230 International Economic Development
Select Awards and news
Invited US Alumni TIES Seminar 2019
Fulbright Specialist Kosovo 2017
Fulbright Specialist Nicaragua 2012
Fulbright Specialist Awards Speaker to reflect on culture and student engagement in Nicaragua  
Penn State researcher's work empowers youth to be change agents